ENGAGEMENT RINGS & WEDDING BANDS
Our Engagement Rings and Wedding Bands are all custom made by Rosie Odette in our Hatton Garden workshop.
We believe that your rings are for life and take great care helping you design the perfect wedding rings, carefully selecting the best precious gemstones that symbolise your love and that truly speak to you.
We love making engagement rings with Ruby, Emerald, Sapphire and Diamonds as well as semi precious gemstones, Champagne diamonds, Grey Diamonds, Salt and Pepper Diamonds and Coloured Diamonds.
Many of our clients come to us for something truly unique as seen in our gallery below.
Please contact us: rosie@rosieodette.com for a free consultation to discuss your dream bespoke wedding bands and engagement ring.
18 Carat Rose Gold & Yellow Gold Wedding Set With Ruby
Two beautiful hand crafted wedding bands. Ruby is a gemstone well known for love. We hand carved their initials on each side of the ruby inside the bands, joining them in unison. Finished with Victorian style hand carved engraving for Her.
Dusty Pink Tourmaline & Champagne Diamond Engagement Ring
Hand carved from wax and cast in 18 carat yellow gold, this pink tourmaline and champagne diamond enegagement ring is just exquisite. Sixteen glistening champagne diamonds surround this beautiful deep pink, pear shape tourmaline. A very unusual and stand out engagement ring inspired by Rajasthan design.
"I wanted to get an original, bespoke engagement ring for my future fiancé, but I did not really know how to go about it or who to speak to. I knew what stones my partner wanted (pink tourmaline and diamonds) and a vague idea about shape and design, but not much else. I am an extreme novice when it comes to jewellery, but Rosie made this a non-issue by guiding me through the entire process. We were in constant contact about how the ring was going to look. She came up with many different ideas and also was very clear about how much each option would cost. I could not have wished for anybody more helpful to work with to produce something so important for me. Never mind all the assistance she gave me, the best part of it all, was that the ring was absolutely stunning! Even better, my partner loved it and said yes! I would recommend Rosie to anyone as she creates beautiful pieces but is also unbelievable helpful in the consultation process, so that you get exactly what you want, even though you may not actually know what you want! Richard"
18 Carat Rose Gold Pink Star Ruby Engagement Ring
Stunning, fourteen carat pink star ruby sourced on our treasure hunt in the Pink City, Jaipur. Star rubies are very powerful gemstones and were once worn by knights on battlefields to protect them from there foe. A historically rich and unique gem, which holds a unique six ray star that shimmers in natural day light.
"Once we both knew how we both wanted our true love set in stones, Rosie created exactly in her gifted skills a timeless set of aesthetically personalised rings. She delivered over and above, using her highly skilled craftsmanship and passion for understanding her clients. We trusted in her ability and she trusted in our story. We both felt her attention of our beautiful union was encapsulated through her hands and delivered with absolute, beautiful care. She has a unique gift with her hands in creating magic. JJ" 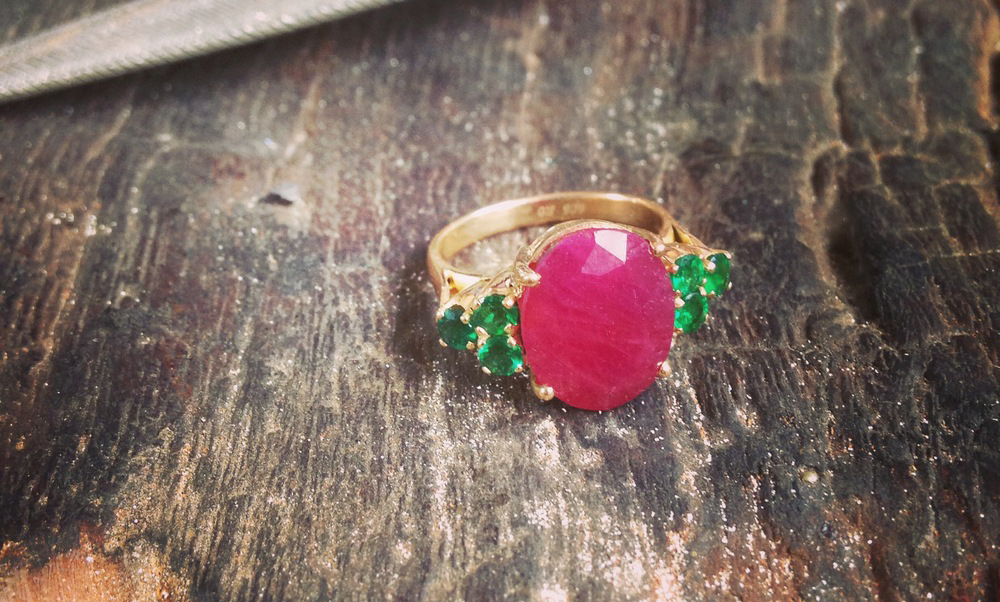 18 Carat Yellow Gold Ruby & Emerald Engagement Ring
The 'Odette'. A truly beautiful, antique style engagement ring. These stunning gemstones are personally sourced from the Pink City, Jaipur, making this ring a limited edition of three. Ruby symbolises love and emerald symbolises love, honesty and integrity.
"I was over the moon when my husband proposed to me with my beautiful engagement ring made by Rosie. I'm a huge fan of rubies, emeralds and gold as well as Africa and India from where the stones are sourced. I literally feel like a queen wearing this antique style, unique and timeless piece. I've had so many lovely comments from friends and complete strangers on how beautiful the ring is. It is very precious to me. xxx. Emily"
18 Carat Yellow Gold & Peridot Engagement Ring
Bold and beautiful. One of our favourite designs from our Regal Collection, The Peridot Empress. An engagement ring for a woman who knows her own mind.

"Rosie created the perfect ring for me, I fell in love with it the moment I set my eyes on it. I wear this beautiful ring everyday, dressed up or dressed down this ring is perfect for every occasion. Rosie went to great lengths for me to create this beaut, thank you!! Absolute legend. Dominique"
18 Carat Rose Gold Wedding Bands
His and Hers matching bands. We love this mat finish texture for Him, and polished finished for Her.
"Jewellery that opens our hearts. We both knew what our deep emotions were telling us. A timeless set of simple but beautiful wedding bands that meant more to us than anything too luxurious. J Mcfall"
18 Carat Yellow Gold Panther Head & Blue Diamond Eye
Art Deco style panther head, hand carved from wax and cast in yellow gold, with a sparkling blue diamond for the eye. This truly alternative engagement ring is exactly what we are about at Rosie Odette Jewellery
"To me, this is the single coolest piece of jewellery I have ever seen and know I will not fall out-of-love with, EVER! When Kevin excitedly told me he would like to have Rosie design a piece of jewellery for me, I could not have imagined it to become more of a reflection of my personal style, as well as an expression of Kevin's love. Martin"
18 Carat Rose Gold Diamond Halo Engagement Ring
This dreamy engagement ring is set with a very sparkly Si 40 point white diamond and twelve glistening white diamonds in a surrounding halo.
"I have absolutely loved my experience working with Rosie to create the perfect engagement ring! I couldn't be happier with the ring and with the personalised service! I would highly recommend Rosie to anyone looking for an amazing engagement ring with a personal touch, and cannot thank her enough! Chris."
18 Carat Rose Gold Wedding Band Set With Blue Sapphire & Champagne Diamonds
Stylish and understated wedding band. Simple is always best. We love this combination of precious gemstones. Inspired by the cosmos, gazing up at the sky searching for shooting stars. Magical.
"Such a beautiful surprise. My boyfriend of 5 years finally put a ring on it. I think he knew that any old shop bought ring just wouldn't do, and knew of Rosie through a mutual friend. He told me they met up several times over coffee to help plan what he wanted for me. I love him dearly, but he's not the most creative of people and he said how amazing Rosie was at understanding what he was trying to create.
It is the most elegant, delicate ring I've ever seen. The champagne diamonds sparkle continually and the blue of the sapphires constantly catches people's eyes and I'm regularly complemented on it. I love how the setting into the rose gold makes it wearable every day; while still looking breathtakingly special. Lucy"
18 Carat Rose Gold Engagement Ring Set With Emerald & Matching Wedding Band
Inspired from our Healing Queen Ring from Regal Collection, this very stylish and unique engagement ring is set with a mesmerising, brilliant cut Zambian emerald, stacked with matching V-shaped band. Queen Cleopatra was so obsessed with this mystical green gem, emerald mines were named after her.
"Huge thanks to Rosie for helping make proposing to my girlfriend Emma incredibly special. I wanted to create something unique and Rosie guided me through designing the ring, choosing the stone and setting. We are both delighted by the rings that she has created. Andrew"
18 Carat Rose Gold Black Rutile Quartz & Champagne Diamond Engagement Ring
A truly alternative engagement ring. We sourced this incredible, top quality black rutile quartz on one of our treasure hunts in the Pink City, Jaipur, and had the gem specially hand-cut, just to fit this design
"I contacted Rosie Odette Jewellery when I was searching for an engagement ring for my now fiancé. I wanted something different and this meant a bespoke piece. Rosie talked me through the next steps and sourced a jewel very quickly, a black tourmaline rutile quartz. It was a stunner. Rosie fitted it into a ring and added the champagne diamonds to transform it into a spectacular ring. It was exactly what I had in mind. End to end it was a completely personal and bespoke service, I received photos of the stone when it was sourced and even a photo of the stone being cut, I really felt included in the process. Rosie created me a very special piece of jewellery for a very special occasion. Needless to say my fiancé loves the ring!! Sim"
18 Carat Yellow Gold Emerald & Champagne Diamond Snake Engagement Ring
Our 'Cleopatra' Snake Ring from Regal Collection is hand carved in wax and cast in gold. A very cool and contemporary engagement ring. Snakes are a Victorian symbol of eternal love. Diamonds in Greek is 'Adamas' which translates as 'Invincible' and emerald is known as a stone of love, honesty and integrity. Wonderful qualities for marriage.
"This Cleopatra snake ring personally means so much to me. It is hand crafted with love and truly picked me, prompting our marriage proposal. The detail and quality are stunning. It is a stand alone piece. Thanks Rosie. X. Nikki"
9 Carat Rose Gold, Sapphire & Diamond Engagement Ring
One of our favourite 'up-cycle' and redesigns. This very pretty and unusual design was originally 'Pip's Grandmother's engagement ring. We transformed a once classic, Edwardian style engagement ring into an organic, contemporary design that 'Pip' felt truly spoke to her today. Carrying a piece of her Grandmother's heart and gemstones through more generations to come.

"Rosie did a fabulous job on my engagement ring! My fiancé found her at a Brighton Open House and found out that she redesigned family heirlooms. We had a sapphire and diamond ring that I had inherited that had just sat unloved in a drawer for years. Rosie took my old heirloom and transformed it into the beautiful ring I wear everyday. She listened to my concerns and suggestions, and made my old ring into a fabulous, new and unusual ring that I would never have found on the high street. Rosie herself is a lovely lady and always happy to help. I look forward to her making my wedding ring! Pip."
18 Carat Yellow & Rose Gold
&
Grey Champagne Diamond Engagement Rings
Stunning and timeless 'Her's & Her's' engagement rings. Hand carved from wax and cast in yellow and rose gold gold. Set with grey and champagne diamonds, for that unique, vintage style sparkle.
"I always loved the idea of designing an engagement ring and thrilled I got the opportunity to do this for myself and my partner. I wanted the rings to be bespoke and a matching pair but for each of them to also have their own personal touches. Rosie Odette was fantastic at guiding me (a complete novice) through the process. I showed her some images for inspiration; she then sketched some ideas in front of me for me to take away and consider. Our second meeting was set up to talk through choice of diamond and gold. Rosie would delicately place the diamonds on my fingers to show me the slight variations in colour and how they each worked with different types of gold. This was one of the most exciting parts of the whole process. Throughout the next couple of months, Rosie worked on the rings and sent me various images at different stages. She was a calming presence through what could have been a stressful process and delivered a stunning pair of engagement rings. It feels so special to have designed a ring for the person I love and know my (now) wife loves the sentiment behind the ring as much as the ring itself. Donna Xx"
18 Carat White Gold, Blue & Grey Diamond Engagement Bracelet
Truly alternative Engagement jewellery for Him. Hand carved from wax and cast in white gold. The grey and blue diamonds, symbolise the cosmos, subtly displaying the constellation of 'Leo' in sparkling blue diamonds, as if they are stars in the sky.
"Every day Rosie's bracelet moves me. It has become a part of my sense of self, my pride & joy in who I am and in the man I am sharing my life with. He truly understands the way to my heart, Yes! It better be gold, and Yes! It better be diamonds, but that's not what Rosie does!!! Rosie will listen with love & deep intent to her clients and create little works of art that express the very beauty of finding your heart captured in ways that words never could. Martin"